The BCEA offers free webinars on a variety of breast cancer topics. All webinars are recorded, so if you missed a live event, you can still see the recorded presentation.
TOPIC: Talking About Your Cancer Diagnosis With Children
DATE: Wednesday, July 17, 2019
TIME: 12 pm - 1 pm; via computer, phone or tablet
COST: FREE - Register by Monday, July 15, 2019
This webinar will provide insight and provide a step-by-step process on how to talk to children about a cancer diagnosis. Topics covered will include:
- Why should I tell my kids about my cancer?
- The three steps to talking with your children:
Step 1: How to prepare for the conversation.
Step 2: How to hold the conversation.
Step 3: What to do after the conversation.
- The four C's of concern for children when someone they love is diagnosed with cancer.
Featured speaker:
Diane Davies is a wife, mother, grandmother, retired elementary teacher, breast cancer survivor, volunteer and author. Diane taught 1st & 3rd grade for 26 years and supervised student teachers for the University of Wisconsin River Falls the rest of her career. In 2004, Diane was diagnosed with breast cancer. It was during this cancer journey that her writing career began. She and her husband make their home in Denmark Township, Minnesota. Diane's daughter and family live next door making Diane one very lucky and happy grandmother!
Introducing the 2019 Education Committee

The mission of the Breast Cancer Education Association (BCEA) is to educate the community by providing support and information about breast cancer detection, diagnosis, treatment and survivorship. The role of the Education Committee is to identify broad-ranging topics across the breast health continuum and to engage expert speakers in the field.

Our outreach and educational programs cross all boundaries and support a broad range of healing philosophies. At local community events, through FREE educational webinars, and at an inspiring annual conference that brings the community's best medical and therapeutic breast health experts together for a full day of learning, BCEA volunteers are connecting those whose lives have been impacted by breast cancer with support resources and the latest information on research, treatment options, nutrition and care.
2019 BCEA Education Committee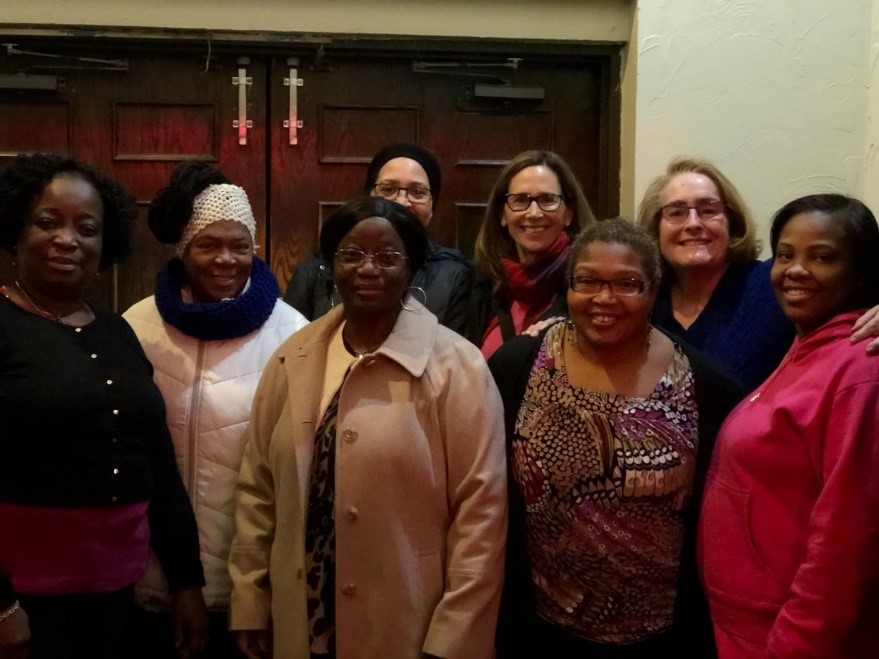 Back Row L-R: Rebekah Floyd, Ann Harris (chair), Gay Lynn Richards
Front Row L-R: Thelma Dukuly, Carolyn Best, Ethel Livingstone, Benita Robinson, Natasha Hollowell
Not Pictured: Renata Beaman, Diane MacGibbon, Marlene Miller