The BCEA offers free webinars on a variety of breast cancer topics. All webinars are recorded, so if you missed a live event, you can still see the recorded presentation.
TOPIC: Why Hospice? A personal story
DATE: Wednesday, February 26, 2020
TIME: 12 pm - 1 pm; via computer, phone or tablet
COST: FREE - Register by Friday, February 21, 2020
Please join the Breast Cancer Education Association (BCEA) for its upcoming webinar "Why Hospice? A personal story" featuring Dr. Andrew Mayo, Chief Medical Officer of St. Croix Hospice.
"You matter because of who you are. You matter to the last moment of your life, and we will do all we can, not only to help you die peacefully, but also to live until you die."
- Dame Cicely Saunders
In this webinar, Dr. Mayo will discuss the basic concepts of hospice and the interdisciplinary team approach to hospice service delivery. He will share his journey as a hospice physician and his intimate experience with hospice and its' presence in his family.
Take-aways for webinar participants include:
- The importance of a person's story.
- Build awareness of the basic concept of hospice and the interdisciplinary team concept.
- Awareness of the multiple roles as a hospice physician.
- Understand the concept of the dichotomy of love and grief.
- The moth effect: importance of mindfulness.
Featured speaker:
A native of Minnesota, Dr. Andrew Mayo was inspired to pursue a career in medicine by his family's long history of dedication to community healthcare and innovation. After completing his family practice residency at Bethesda Hospital in St. Paul, Minnesota, Dr. Mayo spent 17 years practicing in St. Croix Falls, Wisconsin with an emphasis in geriatrics.
Dr. Mayo has served on clinical and hospital leadership boards, and as Medical Director for Luck United Pioneer Home, and Frederic Nursing and Rehabilitation Community. In 2014 Dr. Mayo joined St. Croix Hospice as an Associate Medical Director, where he is now Chief Medical Officer.
Dr. Mayo received his undergraduate degree from St. Olaf College in Northfield, Minnesota, and went on to study medicine at the University of Minnesota. Dr. Mayo continues to pursue additional medical training and has Hospice Medical Director Certification.
Please register for this free webinar by Friday, Feb. 21, 2020
Introducing the 2020 Education Committee

The mission of the Breast Cancer Education Association (BCEA) is to educate the community by providing support and information about breast cancer detection, diagnosis, treatment and survivorship. The role of the Education Committee is to identify broad-ranging topics across the breast health continuum and to engage expert speakers in the field.

Our outreach and educational programs cross all boundaries and support a broad range of healing philosophies. At local community events, through FREE educational webinars, and at an inspiring annual conference that brings the community's best medical and therapeutic breast health experts together for a full day of learning, BCEA volunteers are connecting those whose lives have been impacted by breast cancer with support resources and the latest information on research, treatment options, nutrition and care.
2020 BCEA Education Committee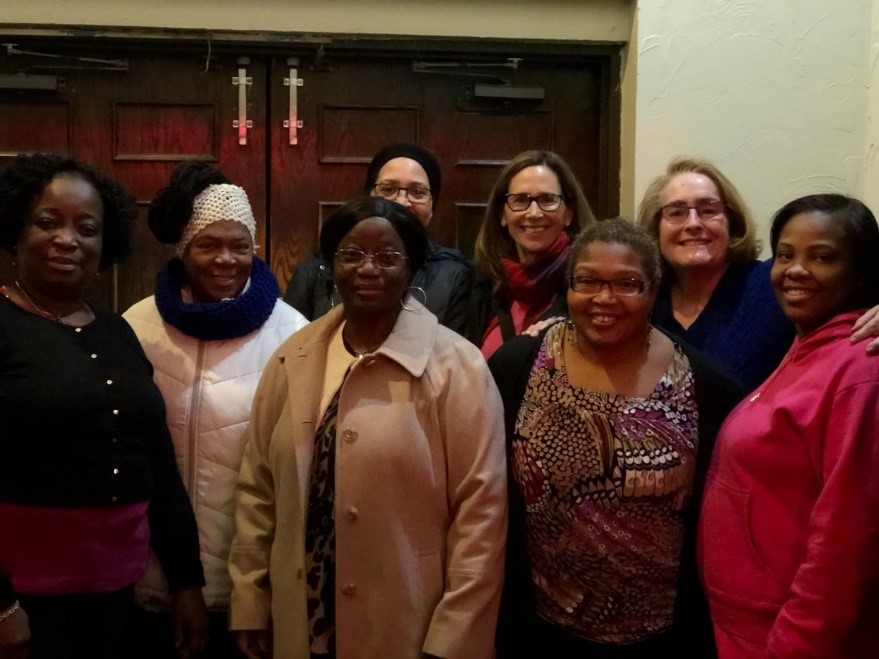 Back Row L-R: Rebekah Floyd, Ann Harris (chair), Gay Lynn Richards
Front Row L-R: Thelma Dukuly, Carolyn Best, Ethel Livingstone, Benita Robinson, Natasha Hollowell
Not Pictured: Renata Beaman, Diane MacGibbon, Marlene Miller