TOPIC:

Improving Breast Cancer Screening in BIPOC Populations




DATE:

Friday, December 1, 2023


TIME:

12 pm - 1 pm; via computer, phone or tablet




COST:

FREE



REGISTER NOW >
if you missed any of our past webinars, visit our recorded webinars page to listen to this and other important breast cancer topics.
---------------------------------------------------------------------------------------------
Please join the BCEA on Friday, December 1, 2023 for insight on improving breast cancer screening in BIPOC populations through targeted education.
Learning Objectives:
1. Explore the disparity in breast cancer screening, treatment, and outcomes related to breast cancer.
2. Explain the process used to understand the barriers to breast cancer screening among BIPOC populations in Minnesota.
3. Understand the impact of this project on participants.
4. Identify key takeaways from this study.
5. Discuss potential next steps in this work.
Featured Panelists
GayLynn Richards, DNP, RN, MPH, has worked in the oncology field for most of her 50-year career.
Geeta Deka, MBBS, MS, is an Assistant Professor at St. Catherine University in the Master of Physician Assistant Studies program.
Ashley Pohlenz, MPH, is a Senior Research and Program Coordinator at the Masonic Cancer Center at the University of Minnesota.
Benita Robinson is a Health Program Representative at the MN Department of Health.
Liz Sager us a MPH graduate and current St. Catherine University's PA student.
Donna DeGracia, MS, PA-C, is a retired physician assistant and an educator and author.
Introducing the BCEA Education Committee
The mission of the Breast Cancer Education Association (BCEA) is to educate the community by providing support and information about breast cancer detection, diagnosis, treatment and survivorship. The role of the Education Committee is to identify broad-ranging topics across the breast health continuum and to engage expert speakers in the field.
Our outreach and educational programs cross all boundaries and support a broad range of healing philosophies. At local community events, through FREE educational webinars, and at an inspiring annual conference that brings the community's best medical and therapeutic breast health experts together for a full day of learning, BCEA volunteers are connecting those whose lives have been impacted by breast cancer with support resources and the latest information on research, treatment options, nutrition and care.
BCEA Education Committee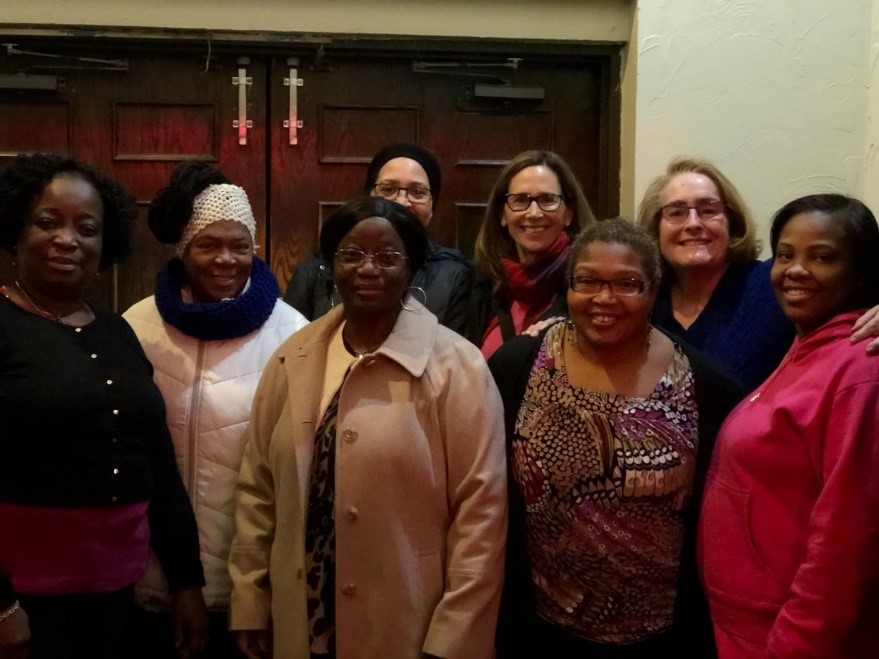 Back Row L-R: Rebekah Floyd, Ann Harris (chair), Gay Lynn Richards
Front Row L-R: Thelma Dukuly, Carolyn Best, Ethel Livingstone, Benita Robinson, Natasha Hollowell
Not Pictured: Renata Beaman, Diane MacGibbon, Marlene Miller