The BCEA offers free webinars on a variety of breast cancer topics. All webinars are recorded, so if you missed a live event, you can still see the recorded presentation.
TOPIC: Explore the Nature of Self with Yoga
DATE: October 21, 2021
TIME: 12 pm - 1 pm; via computer, phone or tablet
COST: FREE
Who am I? This session explores the nature of self through the lens of yoga. We discuss koshas - the metaphorical layers that comprise the human body and mind and house the soul. We also discuss the gunas - the inherent qualities that make up everything in existence. Join Maureen and become acquainted with koshas and gunas through engaging discussion and an experiential guided mediation practice.

Yoga philosophy and meditation practices can help:
Improve awareness of our body, mind, energy, and our abilities, and the mindful utilization of these
Tap into inner strength and wisdom
Improve ability to relate to others and the world in a healthy and balanced way
Make life flow more smoothly
Feelings of contentment, harmony, and joy become easier to access and maintain
Reduce grasping, attachment, and fear
Activate an inner power of healing
Create an internal independent support system to draw on in crisis
Enhance willpower and strength to fight
Enhance willpower and strength to accept when the journey is over
Featured speaker:

Maureen Farley, Reiki Master, Yoga Teacher & Teacher Training Faculty
Maureen began her yoga practice in 1992, studying one-on-one with a tantric yogi for four years and experiencing dramatic healing on all levels of her being. Some of her challenges that were transformed: scoliosis, pectus excavatum, chronic back pain, reduced lung capacity, anxiety disorders, and panic attacks.
Several years of solo practice led her to embrace Purna yoga with yoga teacher and physical therapist Rachel Krentzman, author of Yoga for a Happy Back: A Teacher's Guide to Spinal Health through Yoga Therapy. With Rachel's guidance, Maureen used yoga to recover from debilitating back and neck pain that surfaced in her 30s.
She completed the 200-hour yoga teacher training at Deep Yoga School of Healing Arts, led by Bhava Ram, author of Warrior Pose: How Yoga (Literally) Saved My Life, and Laura Plumb, author of several books on Ayurveda and host of two yoga- and ayurveda-inspired television shows. Bhava and Laura's teaching is informed by Ayurveda, mantra, and the spiritual aspects and deep philosophical roots of yoga.
Maureen attended graduate school for Chinese medicine and has studied Tibetan and Ayurveda medicine, along with western herbalism, and nutrition. For a number of years she also studied with a heyoka medicine man and has had guidance from many wise teachers along her path.
Maureen received her master-level Reiki attunement from David Kaley. In her sessions she intuitively works on balancing chakras and elemental energy in the body often using energetic acupoint stimulation.
In addition to her E-RYT 200 and YACEP certifications with Yoga Alliance, Maureen is certified to teach Yoga for CancerCare and Restorative Yoga. She completed additional training for Yoga for Cancer Patients with Sloan Kettering Memorial Cancer Center of New York. She developed and teaches Green Lotus' Yin Yoga Teacher Training programs and Yoga for CancerCare Training programs. Maureen is also a Reiki Master, bhakti yogi, and practitioner of sat nam rasayan.
Maureen teaches several weekly yoga classes, workshops, and teacher trainings and sees clients for private yoga instruction, specializing in those who have structural issues, back or neck pain, osteoporosis, and those whose life journey includes cancer.
Introducing the BCEA Education Committee

The mission of the Breast Cancer Education Association (BCEA) is to educate the community by providing support and information about breast cancer detection, diagnosis, treatment and survivorship. The role of the Education Committee is to identify broad-ranging topics across the breast health continuum and to engage expert speakers in the field.

Our outreach and educational programs cross all boundaries and support a broad range of healing philosophies. At local community events, through FREE educational webinars, and at an inspiring annual conference that brings the community's best medical and therapeutic breast health experts together for a full day of learning, BCEA volunteers are connecting those whose lives have been impacted by breast cancer with support resources and the latest information on research, treatment options, nutrition and care.
BCEA Education Committee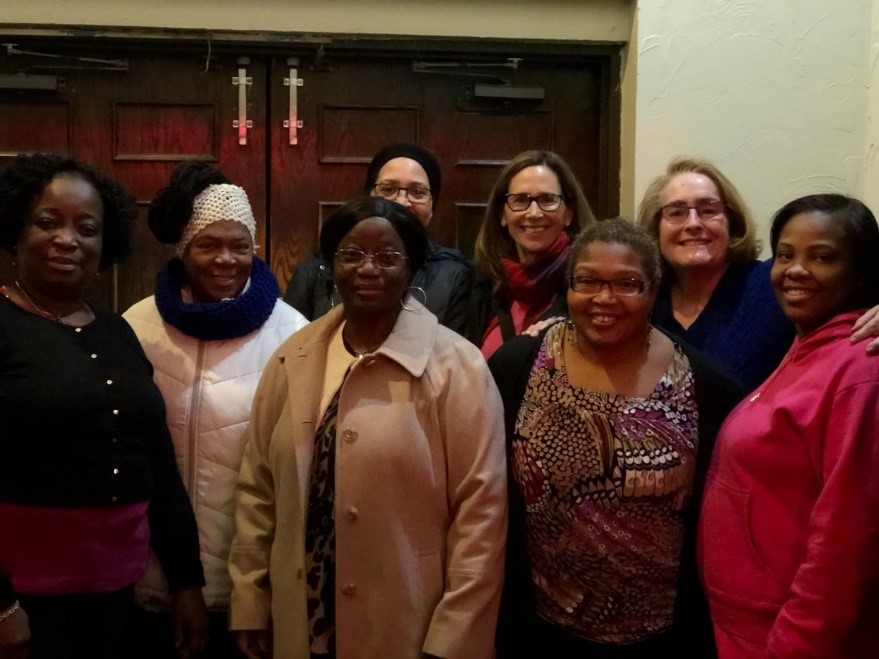 Back Row L-R: Rebekah Floyd, Ann Harris (chair), Gay Lynn Richards
Front Row L-R: Thelma Dukuly, Carolyn Best, Ethel Livingstone, Benita Robinson, Natasha Hollowell
Not Pictured: Renata Beaman, Diane MacGibbon, Marlene Miller