The BCEA offers free webinars on a variety of breast cancer topics. All webinars are recorded, so if you missed a live event, you can still see the recorded presentation.
TOPIC: Yoga and Cancer with Maureen Farley
DATE: Thursday, March 11, 2021
TIME: 12 pm - 1 pm; via computer, phone or tablet
COST: FREE
Experience a gentle yoga practice that was found in a study at Mayo Clinic to help alleviate lymphedema as effectively as an hour of lymphatic drainage massage. No yoga experience is needed. Participants can practice seated in a chair or on the floor. This sequence is also helpful for arthritis, joint pain, and to calm the mind.
Maureen Farley began practicing yoga in 1992 when her first yoga teacher suggested it could help her chronic pain, scoliosis, structural issues, anxiety, and panic attacks. She found relief from these challenges and more and is now on a life-long journey of transformation and healing. She aims to share the ancient wisdom of yoga with everyone who wants to experience its benefits. Her yoga and meditation classes are gentle, inclusive, and calming and include bite-sized pieces of yoga philosophy to guide students toward thier own inner resources of contentment, peace, and love.

Maureen speaks publicly and teaches at retreats, workshops, and leads advanced trainings including Yoga for CancerCare teacher training where yoga teachers and medical professionals get the tools they need to bring the practices of yoga, meditation, and breath techniques to cancer patients and survivors. Read more about Maureen here: https://www.greenlotusyogactr.com/healing-therapeutic-experts/maureen-farley-yoga-instruction
Introducing the 2020 Education Committee

The mission of the Breast Cancer Education Association (BCEA) is to educate the community by providing support and information about breast cancer detection, diagnosis, treatment and survivorship. The role of the Education Committee is to identify broad-ranging topics across the breast health continuum and to engage expert speakers in the field.

Our outreach and educational programs cross all boundaries and support a broad range of healing philosophies. At local community events, through FREE educational webinars, and at an inspiring annual conference that brings the community's best medical and therapeutic breast health experts together for a full day of learning, BCEA volunteers are connecting those whose lives have been impacted by breast cancer with support resources and the latest information on research, treatment options, nutrition and care.
2020 BCEA Education Committee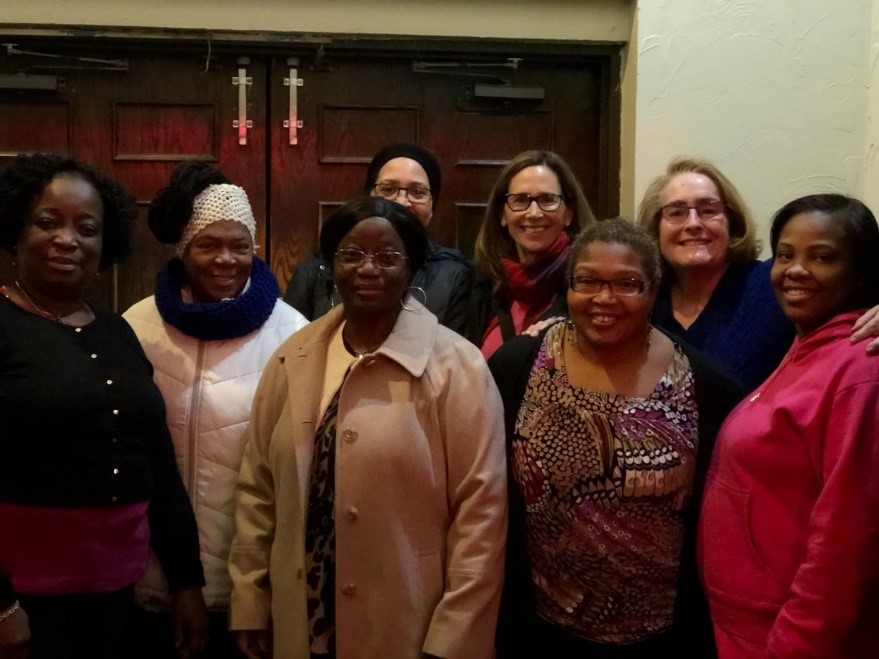 Back Row L-R: Rebekah Floyd, Ann Harris (chair), Gay Lynn Richards
Front Row L-R: Thelma Dukuly, Carolyn Best, Ethel Livingstone, Benita Robinson, Natasha Hollowell
Not Pictured: Renata Beaman, Diane MacGibbon, Marlene Miller