Do you want to make a difference in the lives of people who have been impacted by breast cancer? Would you like to connect with others who are passionate about breast cancer education?
If you answered "YES" to one of these questions, please consider volunteering with the Breast Cancer Education Association! Since 2001, our organization has been educating the community by providing support and information about detection, diagnosis, treatment and survivorship.
As a grassroots organization, we rely on our amazing volunteers and supporters. Even if you have just a few hours, there are a wide variety of volunteer opportunities to fit every schedule and skill set.
If you're ready — raise your hand now!
Annette Lamers Making A Difference Award

Luella Williams is the recipient of the 2021 Annette Lamers Making a Difference Award. The award recognizes an outstanding volunteer whose dedicated service has made a significant difference in our community. A three-time breast cancer survivor, Lu is now celebrating 34 years as a survivor. She was first introduced to BCEA when she was asked to model in a fashion show and has been a dedicated volunteer ever since. She is one of the original Breast Cancer Champions, and currently serves as a mentor to new Champions. She plays a key role in BCEA community outreach programs and also volunteers with African American Breast Cancer Association and Sisters Standing Up to Breast Cancer. Lu's dedication, caring and commitment have been instrumental in helping BCEA reach communities with unequal burdens of cancer. You will find Lu at nearly every BCEA- sponsored meeting or event, greeting everyone she meets with a smile, sharing her story, educating and encouraging women to take care of their health.
BCEA Co-Founders Leadership Award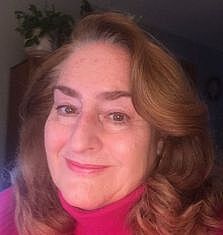 GayLynn Richards is the recipient of our first BCEA Co-Founders Leadership Award. The award recognizes a volunteer who exemplifies the strong leadership qualities that make it possible for BCEA to thrive and succeed. Gay spent most of her career working in oncology nursing, and received an advance certification in breast health from the Anderson Cancer Center. GayLynn commits countless hours of her time and energy representing BCEA in the community. She is involved in several organizations, sharing her knowledge and inspiring others in the fight against breast cancer. A trusted and respected leader in the community, Gay has a true gift for connecting people and organizations with a shared vision. She's been a leader in expanding BCEA outreach efforts to raise awareness and bring education to underserved communities, and has been instrumental in obtaining grant funding to support collaborative outreach programs, including the Breast Cancer Champions. Gay's leadership has been invaluable, and her commitment and passion are an inspiration to all.