The ONLY conference of its kind in the Twin Cities, our annual Breast Cancer Education Conference features renowned experts and resources on the latest in breast cancer research, nutrition, care and prevention.
SATURDAY, OCTOBER 14, 2023
Conference 8:00 am - 2:30 pm
Wilder Foundation Center, St. Paul, MN
Virtual & In-Person Options, CEU Credits Available
Breast health specialists will share the latest advancements in research, treatment and care in a supportive and inspiring environment. The day includes opportunities to connect with others and discover practical tools and resources for dealing with the challenges of surviving and living with breast cancer. The conference is designed to be relevant to anyone whose life may be affected by breast cancer – newly diagnosed, in treatment, survivors, caregivers, family members and health care professionals.

Scholarships are available to attend this conference - Scholarship Application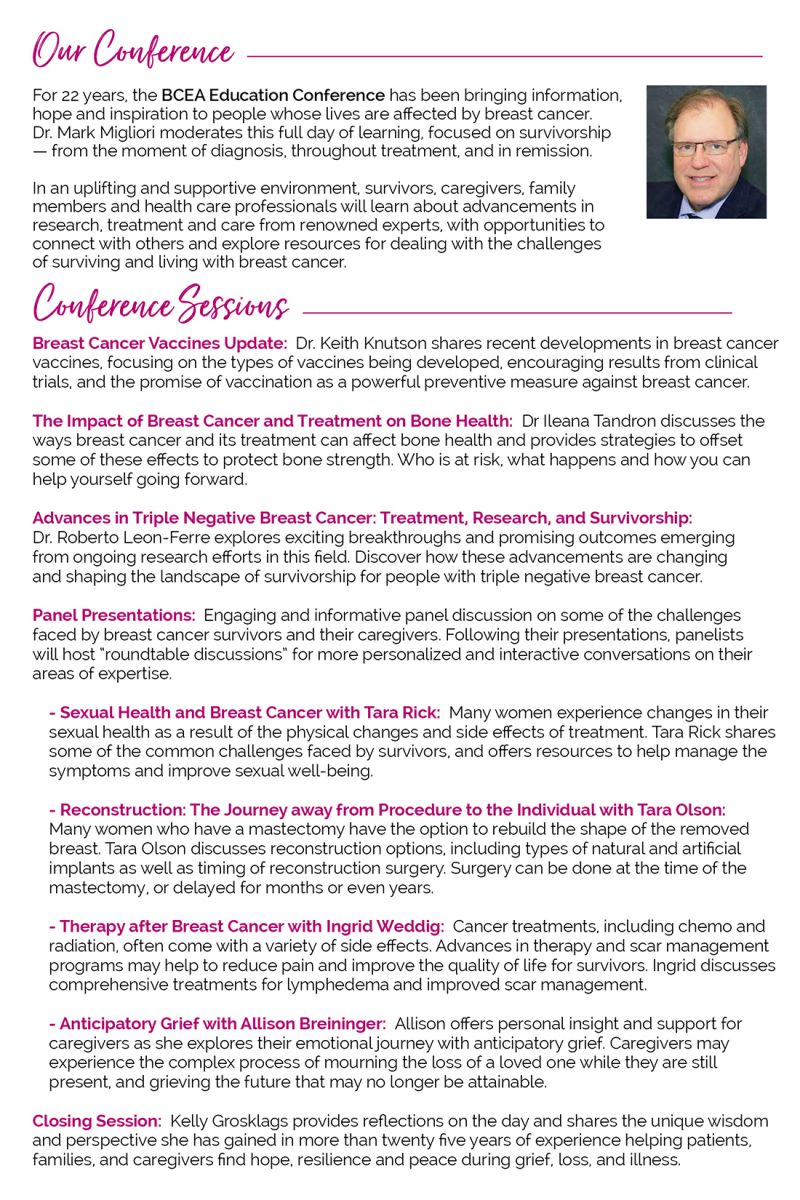 Conference Schedule
8:00-8:30 am: Resource Center & Continental Breakfast
8:30-8:45 am: Welcome
8:45- 9:10 am: Breast Cancer Vaccines Update - Keith Knutson, PhD
9:10-9:35 am: The Impact of Breast Cancer and Treatment on Bone Health - Ileana Tandron, MD
9:35-10:00 am: Advances in Triple Negative Breast Cancer: Treatment, Research, and Survivorship - Roberto Leon Ferre, MD
10:00-10:25 am: Resource Center and Break
10:25-11:25 am: Q & A Panel facilitated by Dr. Mark Migliori
11:25 am-12:30 pm: Resource Center, Lunch and Awards Presentation
12:30- 1:10 pm: Survivor Panel Presentations
- Sexual Health and Breast Cancer with Tara Rick
- Reconstruction: The Journey away from Procedure to the Individual with Tara Olson
- Therapy after Breast Cancer with Ingrid Weddig
- Anticipatory Grief with Allison Breininger
1:10-1:45 pm: Table Talks
1:45-2:15 pm: Wrap-up: Kelly Grosklags, LICSW, BCD
2:15-2:30 pm: Closing